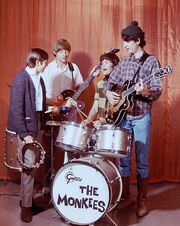 The Monkees
were a rock and pop band, initially active from 1966 to 1970.
[1]
[2]
Its members
Micky Dolenz
,
David Jones
,
Michael Nesmith
, and
Peter Tork
were hired by
Screen Gems
producers
Robert Rafelson
and
Bert Schneider
to star in the television series
The Monkees
as a fictitious, chronically out-of-work band, and to perform on records and at live shows.
[1]
The group appeared in two seasons of the series, plus a movie,
Head
, and a television special,
33⅓ Revolutions Per Monkee
,
[3]
and performed on 11
studio albums
(though only seven as a foursome).
References
Edit
↑ 1.0 1.1 Andrew Sandoval. The Monkees Deluxe Edition liner notes, 2006.
↑ Sandoval, Andrew. Changes liner notes, 1994.