The Monkees ‎– The Best Of The Monkees
Edit
A mail order two(2) LPs or one(1) long play cassette tape compilation through Silver Eagle Records licensed by Arista.
It has a cover very close to the "Then and Now... Best of the Monkees" .

The Best Of The Monkees

Front Cover Art

Label

Silver Eagle Records
(Licensed by Arista)

Country

Canada

Release Date

1986

Catalog No.

SE-1048

Formats:

LP and Cassette
The collection was promoted with a commercial which was on the air for at least two years at 14:40 (entire video also below info box) The Monkees television show reruns on children's cable network Nickelodeon, MTV (Music television) and other places, too.
Though it is two LPs, it is a single cover with both records in plastic transparent dust jackets.
Most of the tracks are labeled as the colgems singles. As I have no way to play it right now and haven't listened to it in a very long time. I can't tell you whether it's stereo or mono, and finding info on the songs on this one is seemingly difficult. Someone can come in and totally revamp this if they want and know.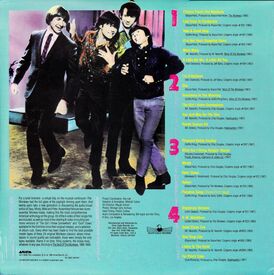 Track Listing:
A1
(Theme From) The Monkees
From The Monkees
2:18
A2
Last Train To Clarksville
Colgems single #1001
2:42
A3
Take A Giant Step
Colgems single #1001
2:32
A4
(I'm Not Your) Stepping Stone
Colgems single #1002
2:44
A5
Mary Mary
From More of the Monkees
2:21
A6
A Little Bit Me, A Little Bit You
Colgems Single #1004
2:35
B1
I'm A Believer
Colgems Single #1002
3:53
B2
She
More of The Monkees
4:00
B3
Sometime In The Morning
More of The Monkees
2:32
B4
The Girl I Knew Somewhere
Colgems Single #1004
3:13
B5
You Just May Be The One
Headquarters
3:06
B6
Randy Scouse Git
Headquarters
2:58
C1
Pleasant Valley Sunday
Colgems Single #1007
2:18
C x2
What Am I Doing Hangin' Around
Pisces, Aquarius, Capricorn, and Jones Ltd.
3:00
C3
Words
Colgems Single #1007
C4
Goin' DownBa
Colgems Single #1012
C5
Valleri
Colgems Single #1019
C6
Porpoise Song (Theme From Head)
Colgems Single #1031
D1
Daydream Believer
Colgems Single #1012
D2
D. W. Washburn
Colgems Single #1023
D3
Good Clean Fun
Colgems Single #5005
D4
Tear Drop City
Colgems Single #5000
D5
Listen To The Band
Colgems Single #5004
not in true stereo according to monkees 101*
D6
For Pete's Sake
Headquarter
Ad blocker interference detected!
Wikia is a free-to-use site that makes money from advertising. We have a modified experience for viewers using ad blockers

Wikia is not accessible if you've made further modifications. Remove the custom ad blocker rule(s) and the page will load as expected.