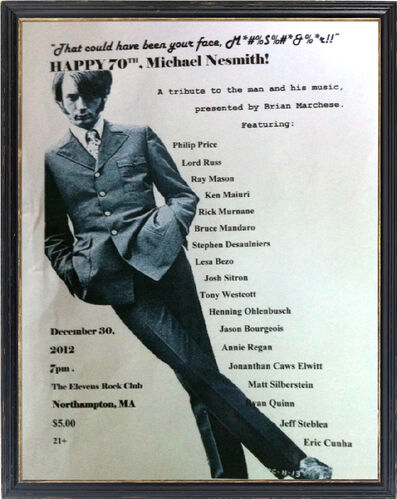 Every year (starting in 2012), Monkee fans gather for Monkee songs both originals and covers, episode screenings and online parties.  A great way to join your friends and celebrate the past (year) before the craziness of the future (New Year's) comes in.
Tributes and Bands
Edit
Various Monkee and Nesmith tribute bands which should be highly encouraged to gig on that night.  Live music and celebration is absolutely in keeping with Monkee spirit. 
Loose Salute
The Blue Meanies-
link
That Could Have Been Your Face link
from the text
Quite a treat for you tonight folks, as Brian Marchese presents: "That Could Have Been Your Face M%th@r F@ck#r!", a tribute to Michael Nesmith and his music. Here are photos and audio from the evening-link
The quote from the event title comes from the famous incident when Nesmith, fed up with Don Kirshner's unchecked control over The Monkees' musical output, punched a hole in the wall at a meeting and stormed off on his motorcycle. Weeks later, Kirshner was out of a job and The Monkees were recording as a real band.
A multi-artist tribute to one of the most creative, interesting and underrated singer-songwriters of the last few decades. For three years he was the standoffish Monkee with the wool hat and sideburns, who fought for creative control and got it--quality went up, record sales went down. His blending of pop, psychedelia and country was unappreciated at the time, but has since proven to be groundbreaking. Between 1970-75, he released SEVEN solo albums that were more appreciated in Europe than in his home country. A couple years after that, he had the idea for what would become MTV. He also produced Repo Man. This past autumn he toured as a solo act for the first time since 1992, and toured with the Monkees in the US for the first time since 1969. Let's honor the guy on his 70th birthday! (and what would have been Davy Jones' 67th...but we'll only be playing songs Nesmith wrote...)

Featuring: Lord Russ Philip Price Ray Mason Lesa Bezo Brian Marchese Jason Bourgeois Stephen Desaulniers Henning Ohlenbusch Ken Maiuri Josh Sitron Matt Silberstein Eric Cunha Rick Murnane Jonathan Caws Elwit Jeff Steblea Bruce Mandaro Ryan Quinn Tony Westcott
and more!
How to Celebrate
Edit
Contact your other Monkee friends on Facebook and ask how they will be celebrating their Monkee holiday.
Email your favorite band and ask if they will be playing that night and if it will include a Monkee tribute.  If not, ask.  Make your requests for Monkee songs early, so they have a chance to learn the songs perfectly.
Call up your favorite bar, club, party place or concert hall and ask them for a Monkee Holiday night.  
Mostly, listen to the band, watch the show and create your own loose salute to Peter Tork, Micky Dolenz and the 2 birthday boys: Mike Nesmith and Davy Jones!!
Ad blocker interference detected!
Wikia is a free-to-use site that makes money from advertising. We have a modified experience for viewers using ad blockers

Wikia is not accessible if you've made further modifications. Remove the custom ad blocker rule(s) and the page will load as expected.