Every so often in the 1960's, because of random legal issues or marketing tools, American songs were recorded in other languages.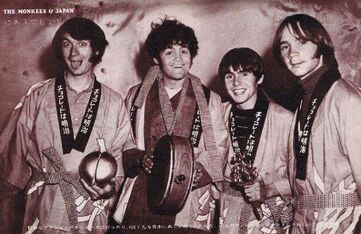 Monkees Singing in Another Language
Edit
In the late 1960's, there was a tour of Asia and Australia.  Into the 21st century, Peter wears a guitar strap with Japanese writing on it, which translates to "Kamikaze".
Some songs they sang in foreign languages are:
"Tema del Monkees"-link
"Riu Chiu"-link
Covers by Others
Edit
Serbian-"Last Train to Clarksville".
Riblja čorba - Zadnji voz za Čačak-link .  
If you watch only one video in Serbian this year, make it this.
Ad blocker interference detected!
Wikia is a free-to-use site that makes money from advertising. We have a modified experience for viewers using ad blockers

Wikia is not accessible if you've made further modifications. Remove the custom ad blocker rule(s) and the page will load as expected.